Rehabilitation Specialist & Mobility Training Near Me - Witness Incredible Body Transformations
Looking for a rehabilitation specialist or training center near Alpharetta, Cumming, Duluth, Fayetteville, Peachtree City, Peachtree Corners, Roswell, GA? Then American Fitness Center is the place for you. American Fitness Center is dedicated to improving your fitness level and helping everyone reach their goals with a personalized approach to wellness. Many physical therapy clinics do not provide the quality and care needed to actually improve treatment outcomes. We welcome amputees, obese (overweight), diabetic, hypertensive (hypertensive), paraplegic, sleep apnea, stroke and quadriplegic patients who want to improve their physical and visceral health. . What are you waiting for? Increase mobility now and restore proper function for optimal healing and performance.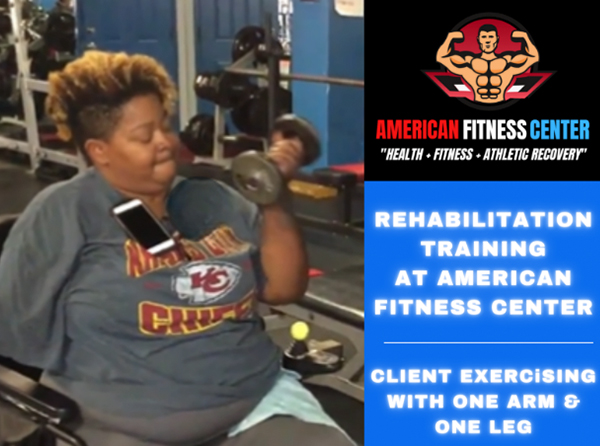 Look At Our - Successful Rehabilitation Clients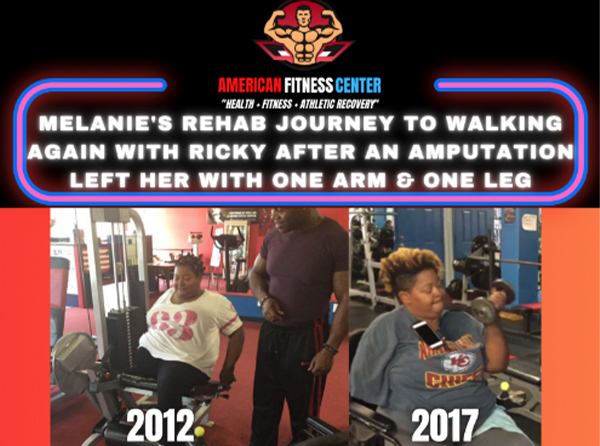 Client Name: Melanie M.
Melanie is a client of ours who has experienced amputation. She had her right arm and leg removed following an accident more than twenty years ago. Unfortunately, she received generic physical therapy and lacked proper guidance from her doctors, resulting in numerous medical conditions and loss of function on the right side of her body. Melanie desperately needed someone who could help her regain mobility and also assist with weight loss in order to improve her overall health and alleviate her medical issues, including diabetes and hypertension. Fortunately, she came across our Rehabilitation Specialist, Ricky Moore, at the American Fitness Center in Fayetteville, GA, through an online search. Melanie was determined to ensure that Ricky had the necessary experience working with clients in similar health and physical conditions. After approximately three years of consistent rehabilitation training with Ricky, Melanie achieved a major milestone in her life – she regained the strength to walk for the first time in nearly two decades. This accomplishment brought immense joy to her life. Melanie's inspiring story continues to motivate and inspire countless people on a daily basis. She exemplifies why excuses have no place at AFC, as she had valid reasons for not being able to get in shape, but she disproved this myth by conquering her goals without making excuses. Regardless of your condition, you can transform your life at American Fitness Center today!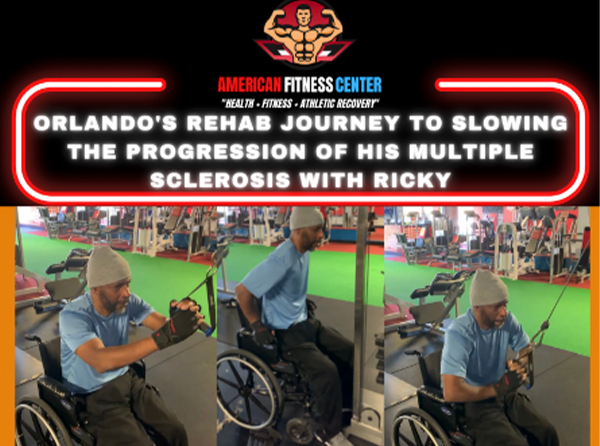 Client Name: Orlando C.
Orlando has been a loyal member of American Fitness Center Fayetteville for nearly a decade. After being diagnosed with Multiple Sclerosis (MS) following his discharge from the army, Orlando noticed a decline in the functioning of his lower body. Seeking assistance, he turned to Ricky Moore, the Rehabilitation Specialist at American Fitness Center, to not only slow down the progression of his MS but also strengthen his entire body. Since 2016, Ricky has been working closely with Orlando, resulting in a noticeable reduction in the advancement of his disease. Ricky has personally developed a tailored program for Orlando, focusing on enhancing strength in both his upper and lower extremities. Orlando is incredibly grateful for Ricky's expertise, as traditional in-home physical therapy was not effectively addressing his condition. If you're facing mobility challenges, don't wait until your condition worsens. Start your journey with Ricky Moore at American Fitness Center today!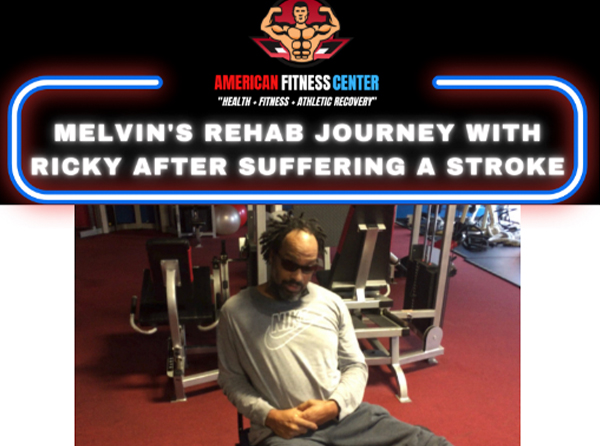 Client Name: Melvin B.
Melvin, one of our clients, came to us for stroke rehabilitation. His unhealthy lifestyle caused a blockage in his arteries, leading to a stroke. Thankfully, he found Ricky Moore at American Fitness Center in Fayetteville, GA, who specializes in stroke rehabilitation. Ricky created a personalized rehabilitation plan for Melvin, targeting his specific needs. After a few sessions, Melvin noticed significant improvements in his walking and a decrease in trembling. If you're in need of stroke rehabilitation, don't hesitate to contact American Fitness Center today and book a consultation to improve your quality of life.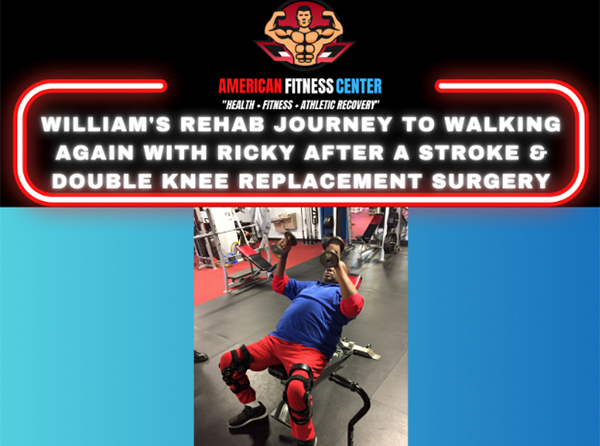 Client Name: William S.
William is another one of our clients who is undergoing stroke rehabilitation. He also underwent double knee surgery, which resulted in a decrease in physical activity and subsequent weight gain. William was searching for a physical rehabilitation specialist in Peachtree City, GA, who could help him restore mobility in his knees and regain a normal life after experiencing a stroke. He came across American Fitness Center in Fayetteville and specifically requested to work with Ricky Moore. Under Ricky's guidance, William began the process of rebuilding his body day by day. Before long, he had gained enough strength to walk without the assistance of a walker. If you have had knee surgery or if your stroke has affected your mobility, don't hesitate to contact the team at American Fitness Center today. Schedule a consultation with Ricky Moore and discover how he can assist you in naturally rebuilding your body.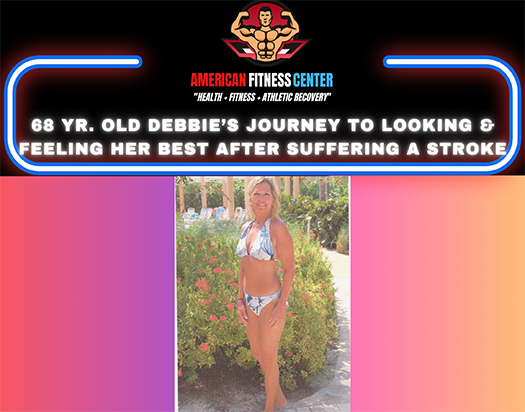 Client Name: Debbie Z.
Type of Training: Personal Fitness & Rehabilitation Training
Goal: Attain Better Health, Lose Weight To Pose On The Beach In A Bikini, and Regain Proper Function After Suffering A Stroke
Debbie faced feelings of abandonment and neglect after suffering a stroke that traditional medicine couldn't address. The stroke resulted in paralysis on her left side, causing immense frustration. Determined to find help, she turned to the internet to search for a rehabilitation specialist in Alpharetta, Cumming, Duluth, and Roswell, GA. After exploring her options, she selected Ricky Moore, the Rehabilitation Specialist at American Fitness Center. Ricky crafted a customized treatment plan for Debbie, targeting specific areas to address her needs. Through dedicated rehabilitation therapy, Debbie not only regained full mobility but also achieved her desired physique at the age of 68! Now, she confidently flaunts her toned body in a bikini while enjoying beach vacations.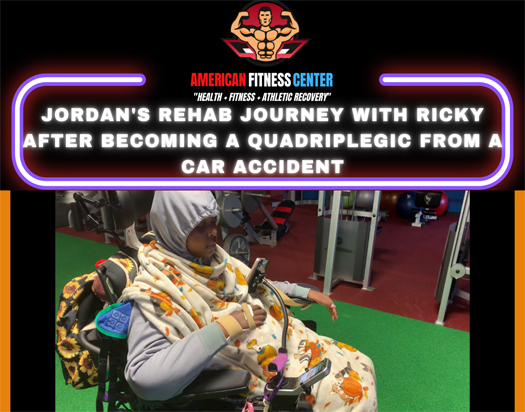 Client Name: Jordan. W
Jordan is an adolescent that was a victim of a hit-and-run car accident. This tragic event left Jordan immobile and diagnosed as a quadriplegic. She was given care by the Shepherd Center, however, there was not much improvement after physical therapy appointments. Her family was looking for better care that was more affordable but also more beneficial for Jordan and her future. Her mom sought a rehabilitation specialist and physical fitness trainer in Alpharetta, Cumming, Fayetteville, Peachtree City, and Roswell, GA, and found Ricky Moore at American Fitness Center. After just 3 weeks of training with Ricky, Jordan accomplished amazing feats! She began to redevelop motor skills in her upper extremities and perform better while also feeling better. Jordan's family is forever grateful for the impact Ricky Moore and American Fitness Center Fayetteville have made on their special treasure.