Get Fit and Fabulous at American Fitness Center - Bodybuilding Competition Prep & Training:
Natural Bodybuilding Competition Prep & Training
Get ready to take your bodybuilding goals to the next level with the American Fitness Center Bodybuilding Team. Our award-winning team provides elite natural bodybuilding competition prep and training in Alpharetta, Cumming, Duluth, Lawrenceville, Fayetteville, Peachtree City, Peachtree Corners, Roswell, & Tyrone GA. From bikini bodybuilding to classic physique, figure, physique, and traditional Men's bodybuilding, our team of experienced bodybuilding coaches has the knowledge and expertise to help you reach your goals. Put your trust in the AFC Bodybuilding Team to get you to the finish line!
Bodybuilding Coach Near Me
The American Fitness Center Bodybuilding Team is led by the renowned Pro Natural Bodybuilder, Ricky Moore! As the Head Bodybuilding Coach, Ricky has made waves in the sports industry, particularly in the world of bodybuilding. He is a well respected pro bodybuilder in multiple organizations throughout the southeast. He's passionate about the sport and all the hard work that comes with it. And he firmly believes that anyone can compete – age and physical condition are no boundaries – as long as you stay focused and committed through the entire process. Yes, bodybuilding demands time and effort, but with Ricky and his elite team of bodybuilding pros at American Fitness Center, you can achieve your dreams and come out victorious. So, why wait? Join us now and let's start building the body of your dreams!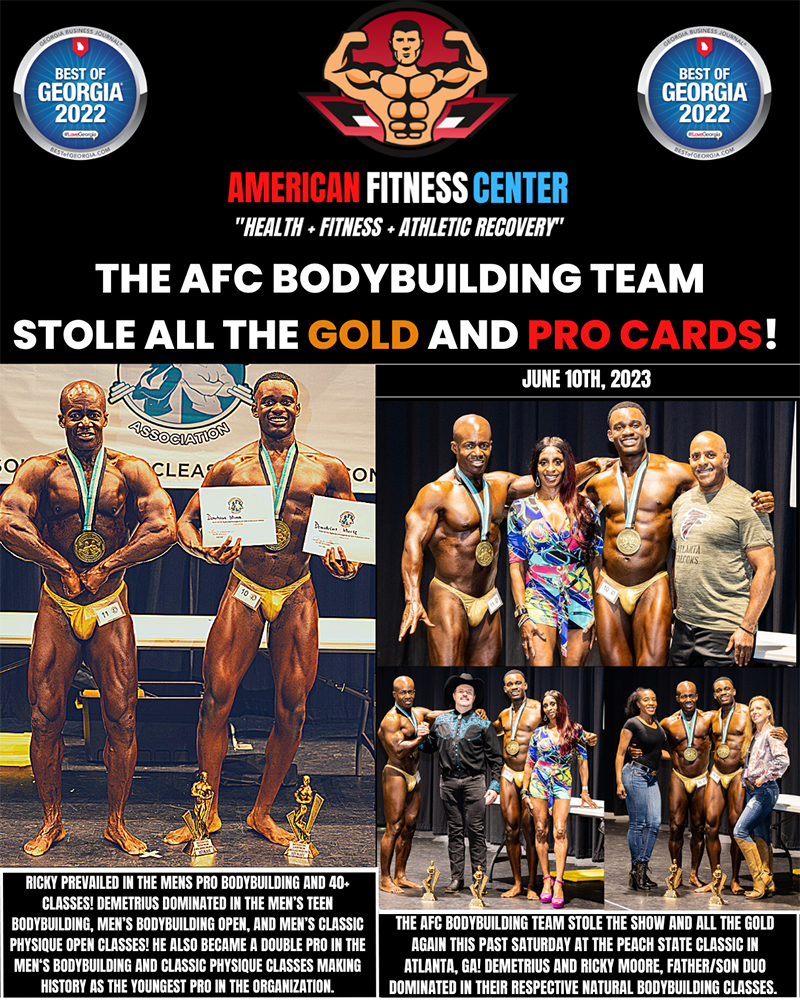 See Our Natural Bodybuilding Success Stories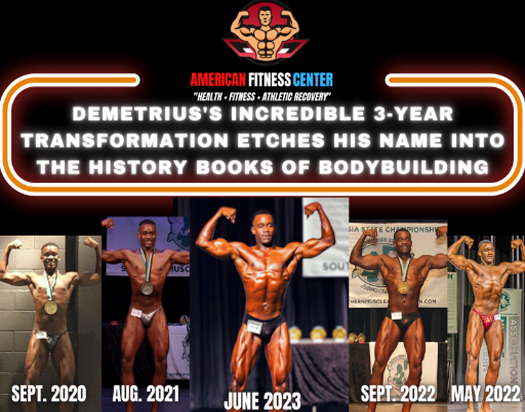 Demetrius Moore, BCNWP
Demetrius, a Board Certified Natural Wellness Practitioner and expert in natural wellness, boasts an impressive resume. In addition to being the Chief Brand Officer of American Fitness Center, he has established himself as a highly accomplished professional in the field of bodybuilding. Demetrius has excelled in various divisions such as Men's Bodybuilding and Classic Physique, earning him recognition as the youngest professional bodybuilder in his organization's history.
Not content with just one achievement, Demetrius accomplished the extraordinary feat of becoming a double Pro bodybuilder at the same competition. His success doesn't end there – he holds an impeccable record as the 10x Southeast Bodybuilding Champion.
Alongside his personal accomplishments, Demetrius takes pride in serving as a coach on the American Fitness Center Bodybuilding Team. His expertise and experience make him an invaluable asset to aspiring athletes looking to excel in their fitness journeys.
Motivated by his passion for natural wellness and unwavering dedication to his craft, Demetrius continues to inspire others through both his achievements and coaching role.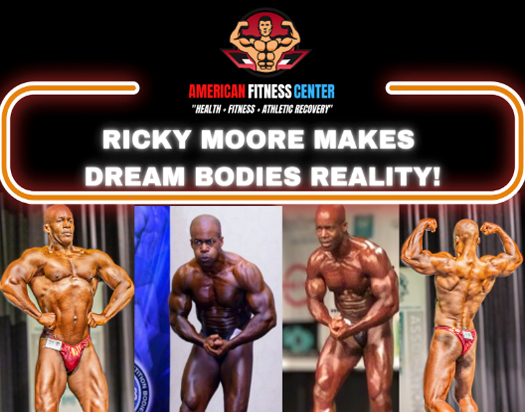 Ricky Moore
Ricky Moore, a bodybuilding champion hailing from England, UK, is widely known for his commitment to drug-free training methods. With extensive experience in guiding individuals to exceed their own expectations and achieve greatness in their respective fields, Ricky has worked with a diverse range of athletes including students, college athletes, and professionals. One notable athlete he coached was Christian Taylor, who secured the men's triple jump title at both the 2012 and 2016 Olympic Games.
Acknowledged as an award-winning fitness trainer and rehabilitation specialist, Ricky was voted as the best fitness trainer in Georgia for two consecutive years by the Georgia Business Journal. His deep-rooted passion for health and fitness serves as motivation to witness his clients' success. Ricky specializes in athletic, bodybuilding, personal fitness, and rehabilitation training.
Ricky's has a large focus in rehabilitation training where he provides assistance to clients with medical conditions in improving their overall quality of life. He specializes in rehabilitation training which supports individuals facing physical challenges, such as amputees, diabetics, multiple sclerosis victims, stroke victims, and many more, recover from their situation to regain mobility and live life happier, healthier, and more fit. Remarkably enough despite suffering from a debilitating back injury himself at one point, Ricky understands the difficulty of being disabled. He diligently rehabilitated himself back to full health and successfully regained his position as a natural Pro bodybuilding champion.
Jarvis M.
Jarvis, a proud veteran of the US army, sought the guidance of a personal fitness trainer in Fayetteville, GA, to improve his overall health after returning home from service. Despite being told by his doctor that he was medically unfit, Jarvis refused to accept this diagnosis. His main goal was to get in shape and feel his best, so he found Ricky, a personal trainer who could help him achieve his objectives. After working with Ricky for 12 months, Jarvis was no longer diagnosed with any medical conditions. Impressed by Jarvis's progress, Ricky suggested that he consider bodybuilding, as he believed Jarvis had the potential to succeed in the sport. Trusting in Ricky's confidence, Jarvis decided to pursue bodybuilding competition preparation and training. Surprisingly, Jarvis won first place in his very first show and even turned pro at his second competition. Now, Jarvis is happier than ever and continues to train hard under Ricky's guidance at American Fitness Center North Fayetteville. His inspiring journey serves as proof that with determination and commitment, anything is possible, and at American Fitness Center, excuses have no place.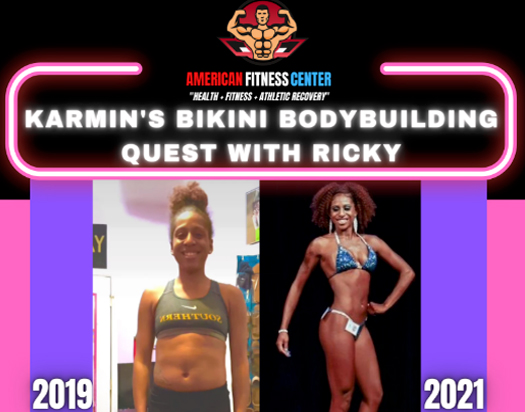 Karmin S.
Karmin, a former collegiate track and field athlete, was on the lookout for a gym in Fayetteville, GA that would provide her with the freedom to train as she pleased. She ultimately became a member of American Fitness Center Fayetteville and remained so for approximately four years before desiring to elevate her fitness goals. Recognizing Ricky's expertise in athletics, Karmin sought his advice on how to excel as an athlete. Ricky, impressed by Karmin's body structure developed through her track running, encouraged her to try her hand at bodybuilding and compete in a show. After much contemplation, Karmin made the decision to compete. She dedicated 11 months to training and eventually emerged victorious in her first women's bikini bodybuilding competition held in Lawrenceville, GA. Surprising even herself, Karmin pushed beyond her comfort zone and achieved a new level of success. At American Fitness Center, you too can surpass your goals and reach new heights.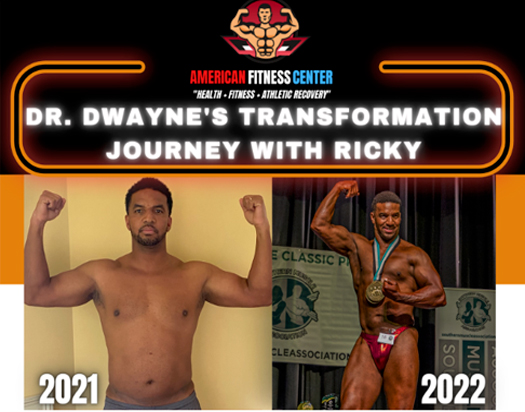 Dwayne W. MD
Dwayne is a medical doctor who sought a professional fitness trainer in Peachtree City, GA, to get in shape for his wife's upcoming birthday. Dwayne was concerned about his ability to reach his goal considering his age, but Ricky quickly dismissed his concern. Dwayne explained that he had no desire to compete whatsoever in bodybuilding as it was intimidating to him. Initially, Dwayne struggled with his diet, which proved to be a challenge. However, after 6 months of consistent training with Ricky at American Fitness Center Fayetteville, Dwayne made an excellent transformation, but he wanted more satisfaction. He asked Ricky if he could compete in an upcoming bodybuilding show. Ricky, of course, said yes, and they began to train. Dwayne truly stepped out of his comfort zone but made himself, but most importantly his wife, proud on her birthday as he won first place in his Men's Bodybuilding 50+ and Transformation categories and second place in his Men's Bodybuilding 1st Timers class. Dwayne is a true testament that age is just a number.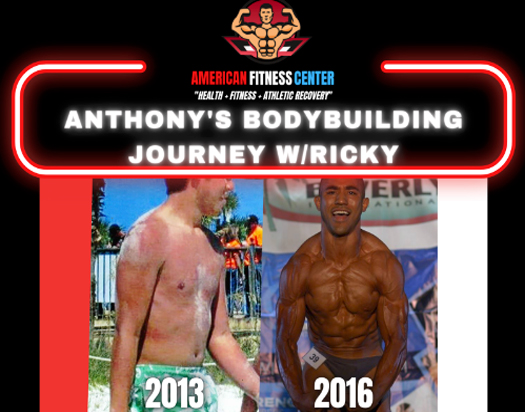 Anthony TJ.
Anthony, a police officer, faced numerous challenges during his upbringing. However, his life took a positive turn when he crossed paths with Ricky at American Fitness Center Fayetteville while signing up for a gym membership. Ricky, a personal trainer, recognized Anthony's need for guidance and became his mentor. Under Ricky's guidance, Anthony thrived in his training and achieved remarkable progress. Ricky believed that bodybuilding could serve as a healthy outlet for Anthony to cope with the everyday frustrations of life. Anthony embraced this idea and decided to train for his first bodybuilding competition. Competing in the Men's Bodybuilding Open class, Anthony secured an impressive second place finish, an experience he was immensely grateful for. Despite his demanding role as a police officer, Anthony continues to prioritize his fitness, finding solace and happiness through training to stay fit and healthy.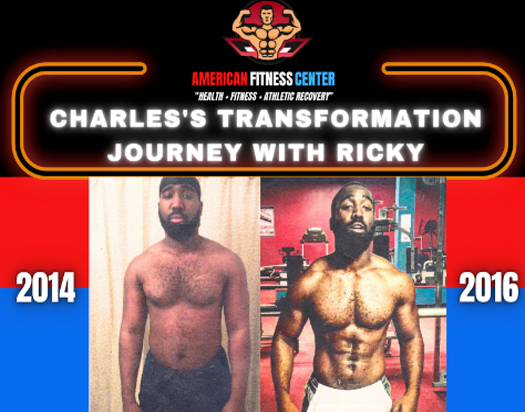 Charles B.
Charles, an accomplished gospel singer, was in search of a personal trainer in Lawrenceville and Duluth, GA to enhance his physical appearance and overall health in line with his profession. Ricky, his personal trainer, introduced him to the world of bodybuilding, igniting Charles' eagerness to sculpt his body for competition. Despite facing challenges in maintaining consistency, Ricky's unwavering support and encouragement compelled Charles to persevere. Eventually, his determination paid off as he secured second place in his first Men's Bodybuilding competition. Filled with joy and a newfound sense of accomplishment, Charles is now motivated to continue training and participate in more shows.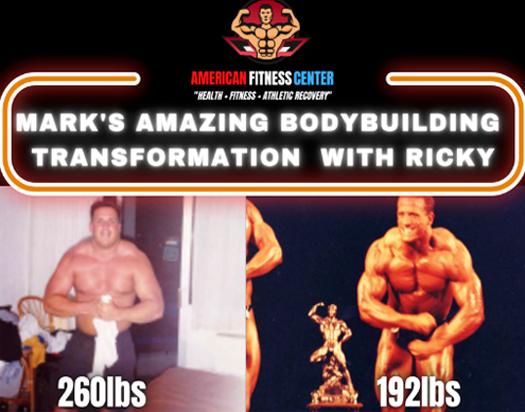 Mark C.
Mark is a former football player who believed that being "bulky & thick" was the best way to be. He was looking for a strength coach in Alpharetta, GA and Cumming, GA, that would help him grow bigger and stronger. When he met Ricky Moore and explained his goals, Ricky educated Mark on the truth about the difference between fat muscle and lean muscle. Ricky explained to Mark that he can transform his body and gain real power and strength as well as increase lean muscle mass that will make him look like he is twice the size he currently is, even though he will be much lighter. During the training process, he was encouraged by Ricky to compete at a bodybuilding competition in order to experience the difference between fat mass and lean mass for himself. He loved the experience after recognizing that lean muscle does outperform bulk and decided to continue training. After further competition prep, Mark became a professional bodybuilder in Men's Bodybuilding Open Class. Mark's story helps shed some light on the common misconception that getting big is the only way to become stronger.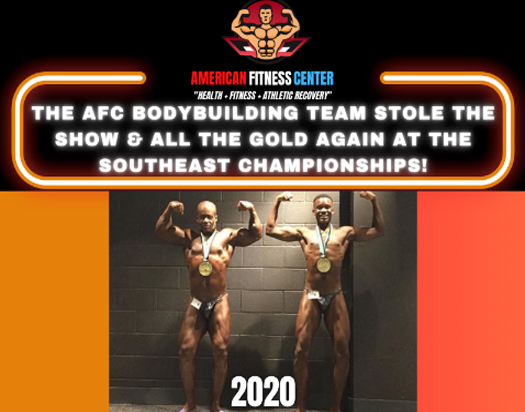 Motivated by their passion for fitness, the Bodybuilding Team from the American Fitness Center emerged as the undeniable stars of the Southeast Bodybuilding Championships held at the Eagle Theater in Sugar Hill, GA. They not only stole the show but also secured all the gold medals.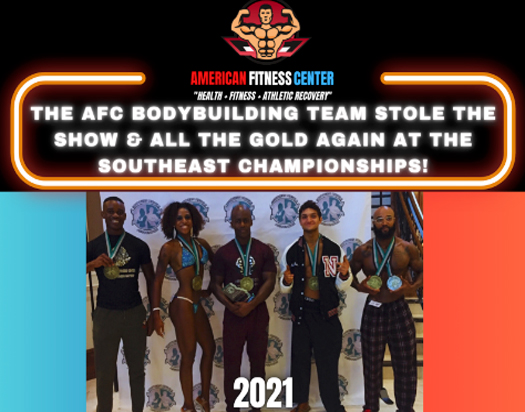 The Southeast Bodybuilding Championships at the Buford Community Center in Buford, GA witnessed the remarkable performance of the American Fitness Center Bodybuilding Team, who not only stole the show but also clinched all the gold medals and honorable achievements.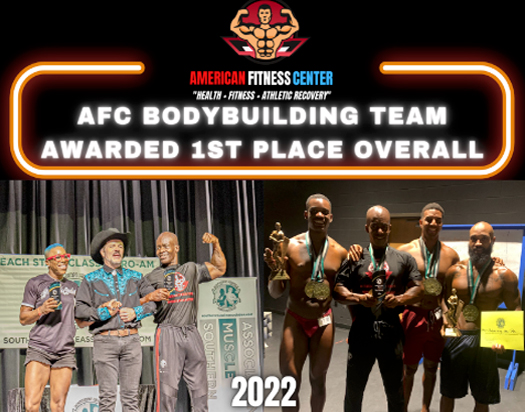 The Southeast Bodybuilding Championships in Lawrenceville, GA witnessed the American Fitness Center Bodybuilding Team's captivating performance. Dominating the competition, our team clinched all the gold medals & pro cards and emerged as champions. Our exceptional team display and remarkable physiques earned us the prestigious 1st Place award.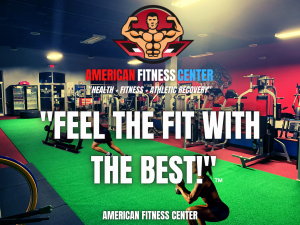 Contact Us Today To Join Our Elite Team & Surpass Your Bodybuilding Dreams!