Personal Fitness Training Near Me - Witness Incredible Body Transformations
Are you looking for the best personal fitness trainer near you in Alpharetta, Cumming, Duluth, Fayetteville. Peachtree City, Peachtree Corners, Roswell, and Tyrone, GA? American Fitness Center is the home of "real results" and priceless body transformations. Our team of elite personal fitness trainers are ready to help you surpass your health and fitness goals. Whether you're looking to build muscle. lose weight, or tone & firm, American Fitness Center can help you. Our clients get the best quality training for best results. Are you ready to conquer your fitness goals? Don't procrastinate any longer! Request a consultation today to start your journey to your new dream body!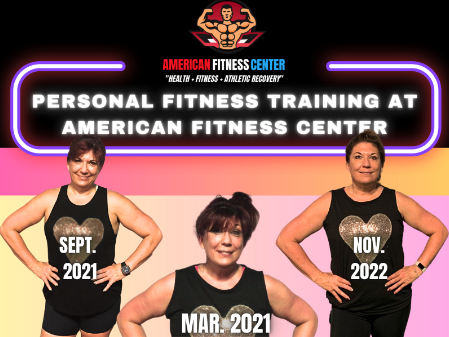 Admire The Amazing Transformations Of Our - Personal Fitness Training Clients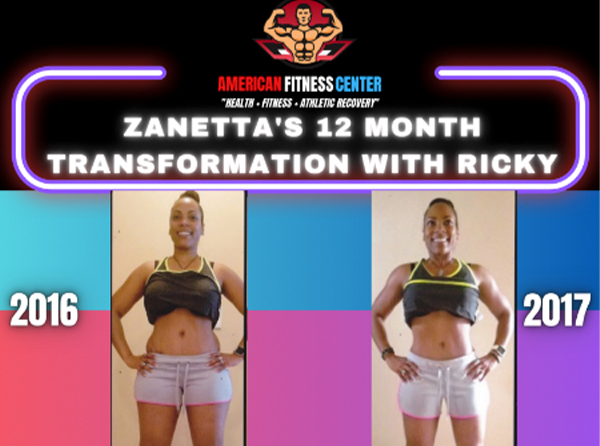 Client Name: Zanetta B.
Type of Training: Personal Fitness Training
Goal: Lose Weight & Better Health
Zanetta, a nurse practitioner, was on the lookout for a fitness trainer in Fayetteville, GA, and Peachtree City, GA, to help her with her weight loss and toning goals. Despite trying trainers at local gyms, she couldn't find the right fit. However, she discovered Ricky Moore at American Fitness Center, and he became instrumental in her weight loss journey. Zanetta's incredible transformation serves as an inspiration to women who aspire to enhance their natural body shape and boost their self-confidence.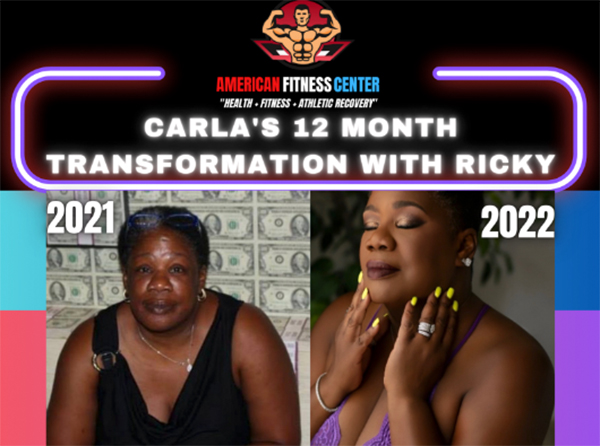 Client Name: Carla R
Type of Training: Personal Fitness Training
Goal: 12 Month Transformation
Carla, the proprietor of a local emissions shop, was in search of a personal trainer in Peachtree City, GA, to assist her in achieving her weight loss objectives. With an upcoming wedding on the horizon, she was determined to get in shape as quickly as possible. Despite trying a few trainers in the past, Carla did not see any noticeable results. After discovering Ricky online, she scheduled a consultation with him. During their meeting, Carla expressed concern about their compatibility due to Ricky's honest & straightforward feedback. However, after 12 months, Carla is now happier than ever and immensely grateful for Ricky's expertise and honest guidance. Irrespective of your aspirations, Ricky can help you surpass them.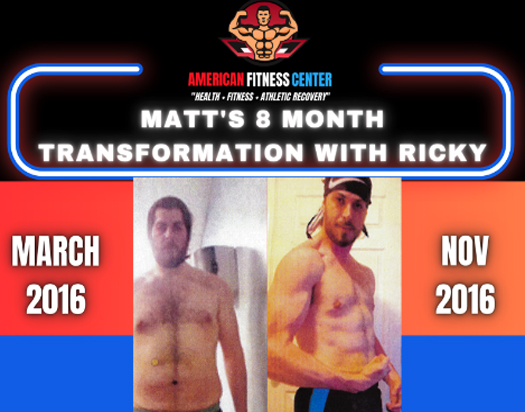 Client Name: Matt S
Type of Training: Personal Fitness Training
Goal: 8 Month Transformation
Matt is a tech engineer that wanted to build more confidence in himself and "lean out". He needed a personal fitness trainer in Peachtree City and Tyrone, GA. He found Ricky at American Fitness Center Fayetteville and was immediately ready to get started. He joined AFC for 24/7 gym access, in addition to personal training to maximize his results. Matt made an amazing transformation in just 8 months with Ricky! If you want to enhance your confidence and get your dream body, American Fitness Center is the place for you!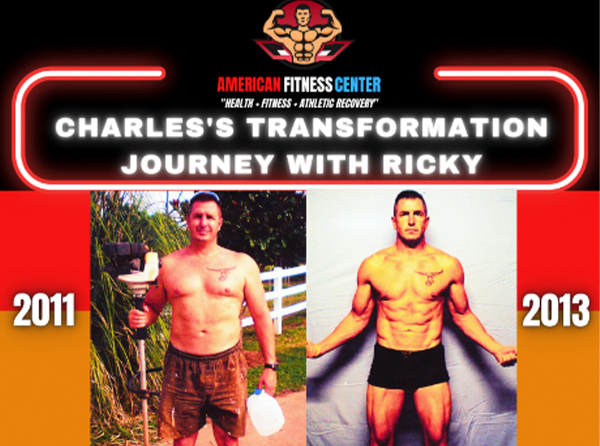 Client Name: Charles K
Type of Training: Personal Fitness Training
Goal: 2 Year Transformation
Charles, a pilot and mixed martial artist, was determined to improve his fitness. In Fayetteville, GA, he sought the assistance of a 24 hour gym and fitness trainer to help him reach his goals. He stumbled upon American Fitness Center Fayetteville and decided to join. While signing up, he was introduced to Ricky, who had a track record of success with previous clients. Impressed, Charles wasted no time and began training right away. Despite his frequent travels, he knew that achieving desired results might take longer but was willing to give it a shot. Over the course of two years, Charles trained with Ricky and transformed his body into his ideal shape. Now, he is incredibly content and continues training at AFC Fayetteville to maintain his impressive results.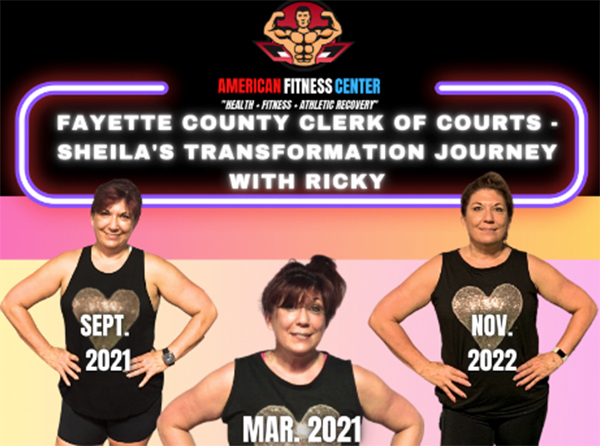 Client Name: Sheila S.
Type of Training: Personal Fitness Training
Goal: 9 Month Transformation
Sheila Studdard, the esteemed Clerk of Superior Court of Fayette County, GA, took the initiative to contact American Fitness Center Fayetteville directly. She sought the expertise of Ricky Moore after witnessing the remarkable rehabilitation journey of one of his clients, who was able to regain the ability to walk with just one arm and one leg. Sheila's motivation behind this decision was to shed excess weight and improve her overall health in order to better serve her community. Under Ricky's guidance, she experienced a remarkable transformation within a mere 6 months. Fast forward to just over a year later, Sheila has achieved an incredible and awe-inspiring metamorphosis.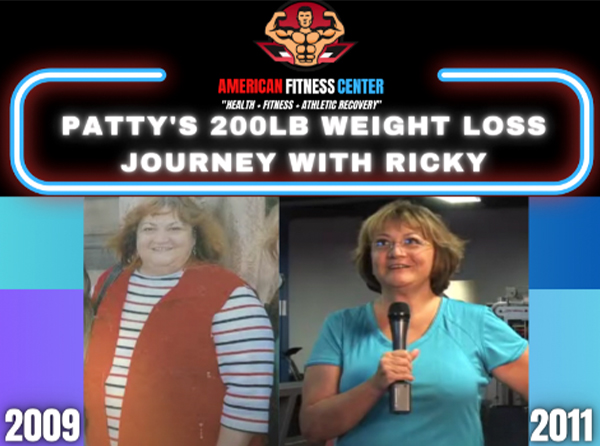 Client Name: Patty L
Type of Training: Personal Fitness Training
Goal: Weight Loss
Patty is a mom who sought a personal trainer in Alpharetta and Cumming, GA. She wanted to lose weight and become healthy as she had multiple medical conditions such as diabetes type II, sleep apnea, and hypertension, in addition weighing over 300lbs. She wasn't sure how to lose the excess weight or get off of her medications. She found Ricky, but initially didn't want to train with him as he looked intimidating because of his physique. She reluctantly decided to start training with Ricky, and the weight started shedding off. Her medical conditions began to become obsolete. After two years of hardcore training, Patty lost 200lbs. She is a testament that your health and fitness goals are "Moore than possible" with Ricky Moore at American Fitness Center.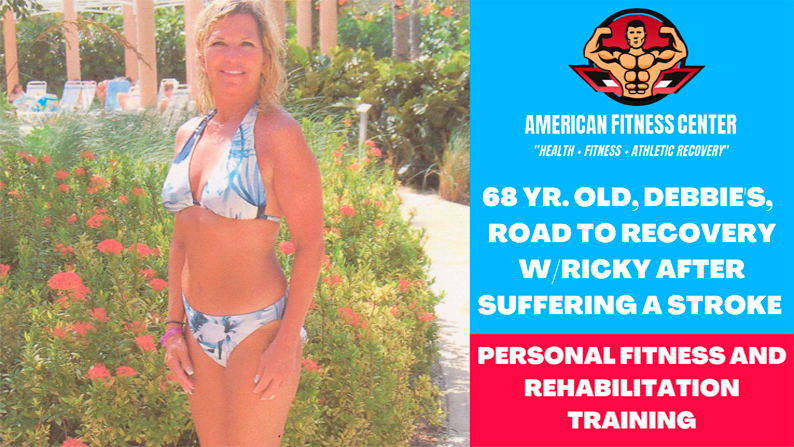 Client Name: Debbie Z.
Type of Training: Personal Fitness & Rehabilitation Training
Goal: Attain Better Health, Lose Weight To Pose On The Beach In A Bikini, and Regain Proper Function After Suffering A Stroke
Debbie faced feelings of abandonment and neglect after suffering a stroke that traditional medicine couldn't address. The stroke resulted in paralysis on her left side, causing immense frustration. Determined to find help, she turned to the internet to search for a rehabilitation specialist in Alpharetta, Cumming, Duluth, and Roswell, GA. After exploring her options, she selected Ricky Moore, the Rehabilitation Specialist at American Fitness Center. Ricky crafted a customized treatment plan for Debbie, targeting specific areas to address her needs. Through dedicated rehabilitation therapy, Debbie not only regained full mobility but also achieved her desired physique at the age of 68! Now, she confidently flaunts her toned body in a bikini while enjoying beach vacations.
Client Name: Jwanna G.
Type of Training: Personal Fitness Training
Goal: Lose Weight & Better Health
When Jwanna first joined American Fitness Center in Fayetteville, GA, she weighed around 230lbs. To start her journey towards a happier and healthier lifestyle, she enlisted the help of Ricky Moore, an elite fitness trainer with vast experience working with clients with various shapes and sizes. Through her dedication and commitment to the custom fitness training program, Jwanna started to see the desired results in no time. After 9 months of training with Ricky, she successfully shed over 50lbs and confidently rocked clothes she never thought she could wear before!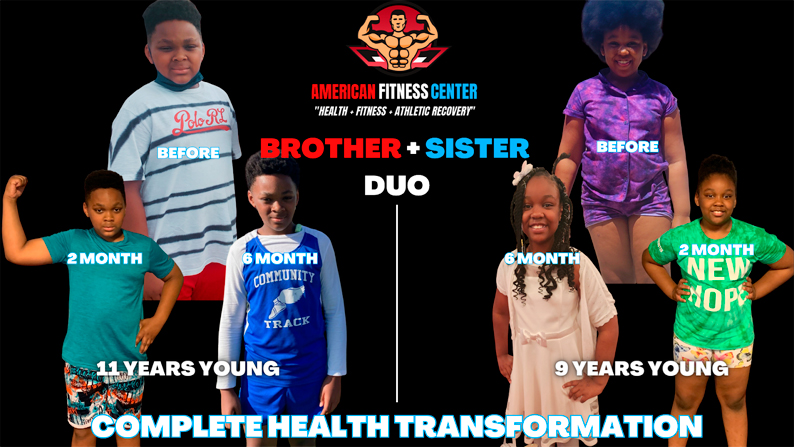 Client Name: Covey & Chloe S.
Type of Training: Health Transformation & Personal Fitness Training
Goal: Lose Weight To Better Overall Health
Covey and Chloe, a brother and sister duo, have made an awe-inspiring transformation at the young ages of 9 and 11. Their parents recognized the need for them to become healthier, as their primary care physician diagnosed them as obese and pre-diabetic. In search of a suitable fitness program for kids and youth in Fayetteville, McDonough, and Peachtree City, GA, the parents turned to the internet. Unfortunately, they couldn't find anything that fit their requirements. However, their luck changed when they discovered Ricky Moore, who offers youth fitness training in the same areas. After just two months of working with Ricky, Covey and Chloe went from being obese and pre-diabetic to becoming healthy young adolescents. Fast forward six months, Covey is now actively participating in sports, while Chloe remains dedicated to exercise and maintaining a healthy diet for continuous progress.